Invitation to the online event: The Challenge of Sustainable Finance
Jun 08 2021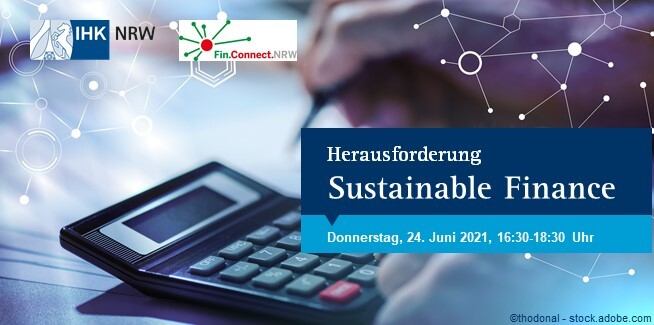 NRW Under the buzzword "sustainable finance", the transformation to sustainable business is reaching the financing level, the financial industry as well as NRW companies as a whole.
The European Union has set itself the goal of including the capital markets in the measures for more climate protection and sustainability. Through several initiatives, environmental, social and corporate governance aspects are to be integrated into the decisions of financial market players, for example in the granting of loans, investments or insurance contracts and non-financial reporting. In view of the major investments required for a sustainable transformation, capital is to be mobilized and economic and financial activities geared to sustainability.
Finance is to become the lever for a sustainable economic system. The EU taxonomy with criteria for what counts as sustainable has come into force. Even though not all facets of the EU regulation have yet been determined, it is already becoming apparent that the financing requirements for the economy are changing fundamentally. NRW in particular, with its mature economic structure and strong industry, must prepare for structural change in good time.
Innovation, investment and their financing can be a key to mastering the "task of the century" of climate protection. For financial institutions and companies, opportunities are opening up in new, growing markets. As part of the Fin.Connect.NRW initiative, we cordially invite you to a digital information event on the "Sustainable Finance Challenge" on June 24, 2021 from 4:30 to 6:30 pm.
To register, please click here: https://www.ihk-nrw.de/veranstaltung/herausforderung-sustainable-finance