GFCI 28: German Financial Centers in Top 50 Ranking
Sep 25 2020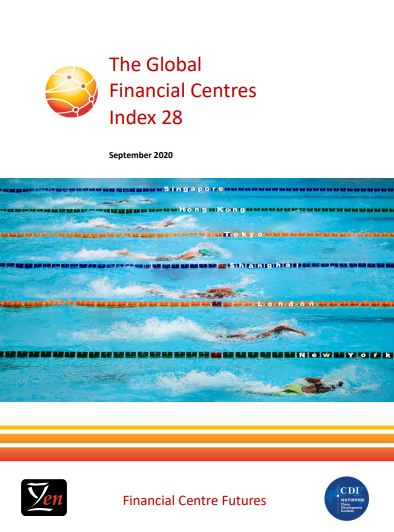 Germany Finance Once every six months, the Z/Yen Group publishes a new Global Financial Centres Index (GFCI). The ranking has been published in cooperation with the China Development Institute since 2007 and is based on online questionnaires and data from over 120 indices. The index compares the competitiveness of financial centers worldwide and shows the progress of the leading financial centers. This ranking also includes a large number of German financial centers among 111 financial centers.
The 28th GFCI was published on September 25, 2020, and once again german financial centers were able to achieve successful rankings and hold their own in international comparison. Frankfurt, for example, finds itself in the top 20 in the ranking with place 16, Hamburg reaches place 29 and Stuttgart can also position itself in the upper quarter of the ranking with place 37. In a european comparison, the german financial centers are also placed in the top 20 ranking, together with cities such as London and Zurich.
According to the GFCI, Frankfurt is also one of the "globally diversified financial centers", including cities such as Paris and Chicago. But Stuttgart and Munich can also position themselves as "internationally established financial centres" and "internationally diversified financial centres", together with financial centres such as Boston, Montreal and Vienna. In addition, the financial centers of Stuttgart and Frankfurt are expected to gain more and more global importance in the coming years.
In the FinTech sector, the German financial centers of Frankfurt, Stuttgart, Hamburg and Munich all make it into the top 30, indicating that the german financial sector has recognized the importance of working with FinTechs and other partners to learn from each other and to benefit both sides.
All in all, the results of the german financial centers can be seen and show that the efforts of the financial centers are worthwhile in the long run and pay off beyond that.
The Global Financial Centres Index 28 can be found here.