Germany Finance with digital booth at Asian Financial Forum (AFF)
Feb 10 2021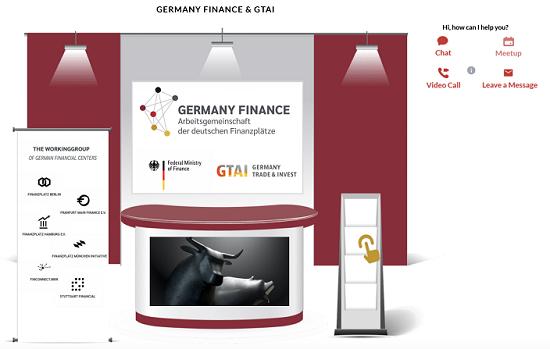 Germany Finance The 14th Asian Financial Forum (AFF) of the Hong Kong Trade Development Council (HKTDC) took place on January 18 and 19. The two-day event was themed "Reshaping the World Economic Landscape" and was held for the first time as an online-only format rather than in Hong Kong due to the Corona pandemic. In total, the AFF recorded more than 63,000 virtual guests from 70 countries and regions over two days. The forum serves as a platform for government, financial and business leaders to exchange ideas on topics such as thought leadership, fintech innovation and business ideas.
As part of the Forum, AFF Deal Flow Matchmaking connects stakeholders through one-to-one meetings based on their common areas of interest. Over the years, more than 5,800 meetings have been arranged for more than 3,500 businesses, including investment project owners, private equity firms, investors, high net worth individuals, and senior professionals from intermediaries and professional service providers. In addition, the HKTDC, 500 Startups and FWD Group jointly presented the first "AFF Accelerate," an open innovation challenge that featured eight startup finalists who developed insurance technology solutions to help the insurance industry recruit agents, target prospects and solve payment problems.
Together with Germany Trade & Invest (GTAI), we also had a digital booth at the Asian Financial Forum exhibition and were present on both days of the event. This gave interested parties the opportunity to get to know our initiative, enter into dialog with us and ask questions. In addition, we wanted to take the opportunity to be inspired by new innovations, to exchange ideas with other participants and to use the event for interesting global networking.
To learn more about the Asian Financial Forum, visit the AFF website.