16th edition of the Private Equity Conference NRW on May 9, 2022
Apr 07 2022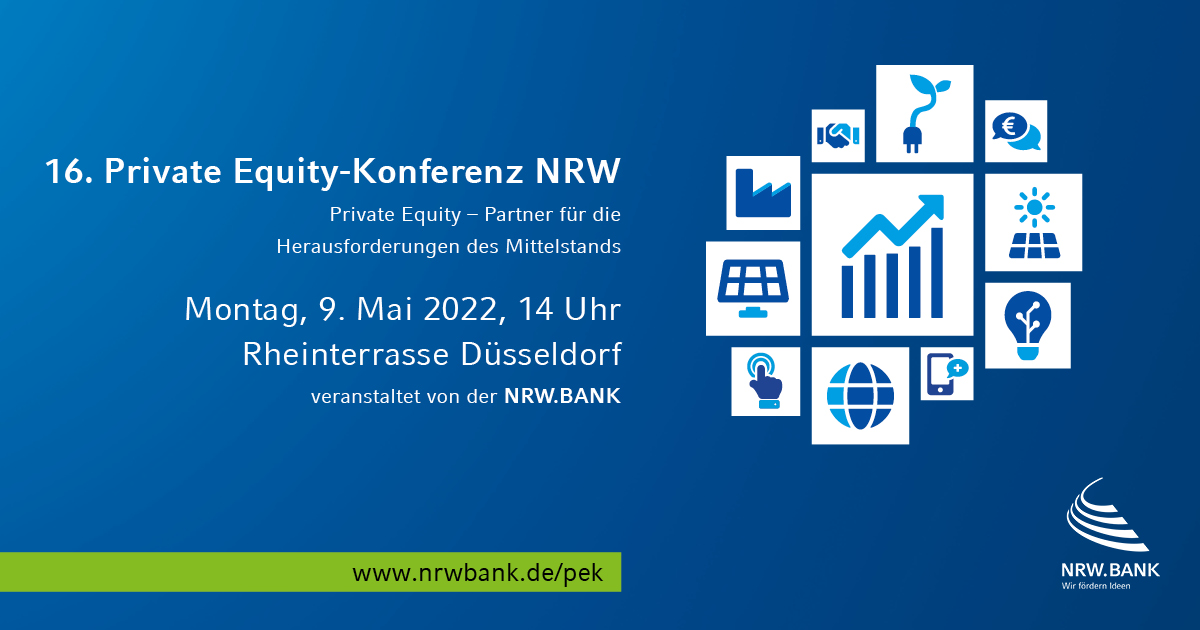 NRW Under the title "Private Equity – Partner for the Challenges of SMEs", NRW.BANK will host the 16th Private Equity Conference NRW at the Rheinterrasse Düsseldorf on May 9, 2022. The event starts at 2 p.m. and ends at 6.30 p.m. with a get-together afterwards. Admission is from 1 pm. During the conference, the possibilities of financing through private equity will be highlighted with a special focus on the current challenges of SMEs and financing options with equity capital will be discussed.
Various lectures, discussion rounds and talks with well-known experts from politics, business and science are planned. Keynote speakers will be the economist Prof. Dr. Ottmar Georg Edenhofer, the sociologist and social psychologist Prof. Dr. Harald Welzer and the economist Prof. Dr. Dr. h.c. Clemens Fuest will appear. NRW Economics and Digital Minister Prof. Dr. Andreas Pinkwart is the patron of the event, which will be opened by NRW.BANK Board Member Michael Stölting.
Young and innovative companies will present their business projects at the Marketplace for Equity Capital. The conference participants will gain personal impressions and make contacts there.
A start-up pitch will take place at the conference again this year, hosted by the Private Equity Forum NRW e. V.: Three start-ups will present their business ideas to the audience. The winner will receive prize money of 10,000 euros, provided by Grover.
Cooperation partners of the event are BVK e. V. – German Private Equity and Venture Capital Association and the Private Equity Forum NRW e. V.
Would you like to participate as well? Please visit NRW.BANK's website for detailed information on the event and the programme. There are still a few places available. You are welcome to register at www.nrwbank.de/pek.